General Meetings
2020 - 2021 Membership Year
ZOOM MEETING
Student Presentations
Please attend via Zoom to support our students and EARN 2 CME's.
MONDAY, NOVEMBER 16, 2020
REGISTRATION: 6:30-7:00PM
CASE STUDIES BEGIN:  7:00PM
The link to register for the Zoom meeting will be emailed to all current SLMAS members. If you would like to become a member or renew for 2020/2021, it is $25 for the year or attend just the meeting for $10.  Please fill out the form at  https://tinyurl.com/slmas-reg .  An invoice will be emailed to you, or you have the option to pay by check.  Students can attend any meeting for free.
_______________________________________________________
THIS IS A ZOOM MEETING
** NOTE: You must renew your SLMAS membership for this year by October 10, 2020, to receive the registration link for the first zoom meeting. **
To renew your membership for this year, please click the following link to fill out a secure, electronic form: https://tinyurl.com/slmas-reg
October 15, 2020
TOPIC:        Interesting OB/GYN Cases
SPEAKER:  Dr Toni Frolova, MD, PhD
TIME:           7:00 pm
2019 to 2020 Membership Year
_________________________________________________________________________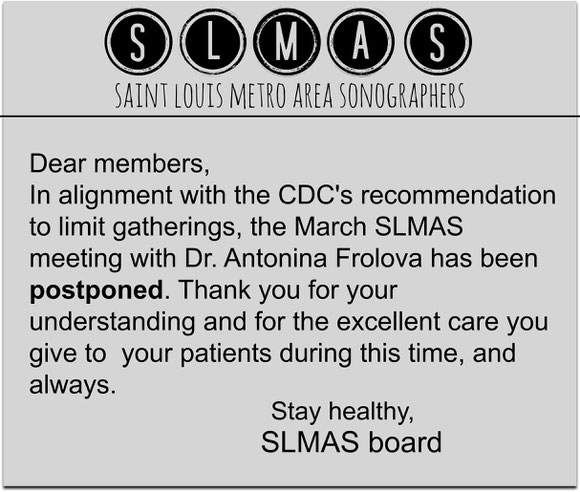 February 20, 2020
Topic:       Ultrasound of Musculoskeletal Infections
Speaker:  Jennifer DeMertzis, MD
Location:  St Luke's Hospital
                 North/South Building
Time:        6:30  Registration
                 7:00 Presentation
Sponsored by Phillips 
__________________________________________________________________________
October 17, 2019
Topic:       Case Studies
Speaker:  Student Presentations
Location:  St. Louis Community College at Forest Park
                 Center for Health Sciences and Nursing (New Building)
                 5600 Oakland Ave
                 St. Louis, MO 63110
Time:        6:30 pm Registration
                 7:00 pm Presentation 
***Come see the NEW ULTRASOUND LAB!***
________________________________________________________________
September 19, 2019
Topic:        Maternal Conditions in Pregnancy
Speaker:   Nandini Raghuraman, MD, MS
                  Assistant Professor, Division of Maternal-Fetal Medicine
                  Department of Obstetrics and Gynecology, Washington University
Location:   Missouri Baptist Medical Center,  Auditoriums 1 & 2
Time:         6:30 Registration
                  7:00 Presentation
___________________________________________________________________________________________________________________________________________________________________________________________________                                                                                                                                   Past Meetings
April 18, 2019
Topic:         Case Study: Adolescent with Cryptomenorrhea & Obstructed Menstrual Outflow
Speaker:    Dr. Diane Merritt, MD
Location:    Missouri Baptist Medical Center
                   Auditorium 1
Time:          6:30 pm Registration
                   7:00 pm Presentation
March 21, 2019
Topic:         Elastography
Speaker:    Michelle Alexander, RDMS
Location:    St Luke's Hospital
                   North/South Building
Time:          6:30 pm Registration
                   7:00 pm Presentation

Liver Elastography Presentation
Liver Elastography SDMS (1).pptx
Microsoft Power Point Presentation
2.4 MB
_________________________________________________________________February 21, 2019
Topic:          Abdominal Doppler Optimization
Speaker:     Dr. William Middleton
Location:     Missouri Baptist Hospital
                    Conference Room Building D, Auditorium 1
Time:           6:30pm Registration
                    7:00pm Presentation
__________________________________________________________________________
January 24, 2019
Topic:        MSK Ultrasound
Speaker:  Patrick Battaglia, DC, DACBR
                 Intergrated Health Center Clinician 
                 Assistant Professor, Logan College
Place:       St Luke's Hospital
                 Emerson Auditorium, North/South Building
Time:         Registration at 6:30pm
                  Presentation at 7:00pm
MSK Shoulder Presentation from January 24, 2019 meeting
Ultrasound of the shoulder _ Battaglia
Adobe Acrobat Document
7.6 MB
_________________________________________________________________________
Topic:        Student Presentation, Case Studies
Speaker:   SLCC-Forest Park Diagnostic Medical Sonography Students
Place:        St Louis Community College-Forest Park
                  Tower A - Room A112
Time:         Registration at 6:30pm
                  Presentation at 7:00pm
 ________________________________________________________________________
SLMAS 2018-2019 KICKOFF MEETING
Topic:       Forward-Thinking Imaging Techniques of the Cranium, Face, and Palate
Speaker:  Deborah D'Agostini, RDMS, FAIUM
Date:       September 20, 2018
Place:      Missouri Baptist Medical Center, Auditorium 1
Time:       6:30 Registration
                7:00 Presentation
Sponsor: : GE Healthcare
It's time to renew your membership.  $25 covers the entire year, students are free.  If you do not want to join, but want to hear the talk, it is $10  We take cash, check, and swipes. Questions?  slmasmembers@gmail.com